Scroll down for English
Protest ter ondersteuning van vrouwenrechten in Polen
Zaterdag, 31 oktober 2020, 17.00 uur
Let op: we doen dit coronaproof. Mondkapjes op, anderhalve emeter afstand houden van elkaar. Laten we op elkaars gezondheid letten! Zie ook hieronder, in het Engelstalige deel, de Code of Conduct.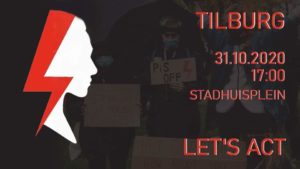 Oproep:
HELP ONS MET HET STEUNEN VAN VROUWENRECHTEN!
Op donderdag 22 oktober, 2020, besloot het Poolse Hooggerechtshof dat abortus, in geval van "ernstig en onomkeerbaar fataal defect of ongeneeslijke ziekte die het leven van de foetus bedreigd", illegaal wordt. Dit betekent een bijna totaal verbod op abortus in Polen.
Honderdduizenden mensen gaan de straat op om te protesteren tegen deze wrede beslissing. Laten we ook hier onze steun en liefde tonen!
Help ons de wereld te laten weten wat er gaande is in Polen!
In deze tijden moeten we het samen doen. Het maakt niet uit waar we vandaan komen, waar we in geloven, en wat onze cultuur of leeftijd is. We moeten laten zien dat we ze horen, en dat we ze steunen.
Dus help ons de Poolse heldinnen te steunen aanstaande zaterdag om 17.00 bij het Stadhuisplein!
Breng de spandoeken mee, breng de energie!
Laat je stem horen!
Want vrouwenrechten zijn mensenrechten!
Bron: https://www.facebook.com/events/1277565482581351/
---
In English:
JOIN US IN SUPPORTING THE FIGHT FOR WOMEN'S RIGHTS! 💪⚡
On Thursday, October 22rd, 2020 Polish Constitutional Court ruled abortion in case of "severe and irreversible fatal defect or incurable illness that threatens the fetus' life" illegal. This means almost a total ban on abortion in the country.
Hundreds of thousands of our sisters are on the streets protesting this cruel decision. Let's show them our support and love! 💪
Let's make the world know what is happening in Poland! 📢
In this time we have to stand together, no matter what country are we from, what do we believe in, what is our culture or age. Let's show them that we hear them, and we've got them.
Join us in supporting Polish superheroines! 🦸‍♀️Come to the square next to the city theater on Saturday at 5 PM!
Bring your banners, bring your energy!
Let our shouts be heard in Poland! 🇵🇱
Because Women's rights are humans rights! 💪
*By taking part in the demonstration you're agreeing to obeying the code of conduct (see below)*
WOMAN'S STRIKE DEMONSTRATION CODE OF CONDUCT
We are a peaceful movement of support for Polish Women facing almost total abortion ban. We are non-discriminatory and inclusive to everyone regardless of gender, religion, ethnicity, skin color, or any other criteria.
To make clear what is expected: all organizers, participants, volunteers, media, and speakers of the demonstration are required to conform to the following Code of Conduct. Organizers will enforce this code throughout the demonstration.
———————————————————–
All forms of harassment are strictly forbidden during the event
Harassment includes offensive verbal comments related to gender, gender identity and expression, age, sexual orientation, different ability, physical appearance, body size, race, ethnicity, nationality, or religion, deliberate intimidation, stalking, following, photography, or audio/video recording against consent, sustained disruption of speeches or other events, inappropriate physical contact, and unwelcome sexual attention.
The person asked to stop any harassing behavior is expected to comply immediately.
———————————————————–
COVID-19 measures
As we are in the middle of a worldwide pandemic COVID measures are in place. This means that each attendee is required to wear a mask covering the nose and mouth and keep 1,5m of distance to other attendees.
This should go without saying but, if you have any symptoms or feel sick in any way please stay at home.
Volunteers will supervise the distance and mask usage.
———————————————————–
The use and possession of any illegal substances, weapons, sharp or dangerous objects is strictly forbidden.
Restrain from bringing and using any sort of drugs (alcohol included).
———————————————————–
Photography is encouraged, but please be aware that not everyone is comfortable with having their picture taken, especially if shared afterward, for instance through the use of social media. Therefore make sure to ask before taking a picture, try to not include faces (take pictures from behind), or blur the faces if you are not sure about consent when posting.
The organizers have the right to remove anyone not complying with the above.